Maris experienced a few momentous emotional episodes during his travels in India, out of which, the Sivagiri incident was distinctive.

It was during his second trip to India. They were visiting the places in South India related to Saint Thomas who is allegedly one of the Twelve Apostles (disciples) of Jesus Christ. Coincidentally they were also Twelve in numbers.

During their stay in Varkala, they arranged a visit to Sivagiri. During that visit to the sacred Sivagiri, Maris encountered a sudden and mighty Guru's 'Darshan'. Emotions were uncontrollable; tears started running. He stood behind a pillar on the left side and cried a lot. Tears are words the heart can't express. That was a special unforgetful day in the life of Maris Sverns, which he cherishes dearly.

Yes, he knew about Sree Narayana Guru in brief before. But there were nothing special. He was like a common tourist.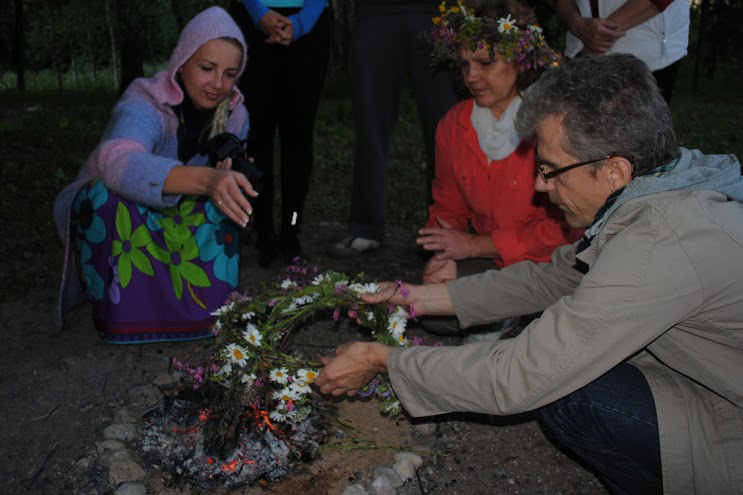 Back home in his small town (less than 8 thousands inhabitants) in Latvia, he got engaged in his work - Technical job in a local water and waste water supplying company. His wife also works there as a secretary.

Republic of Latvia is a country in the Baltic region of Northern Europe. Despite subjection to foreign rule from the 13th to the 20th centuries, the Latvian nation maintained its identity throughout the generations, most notably the language, culture, and rich musical traditions.

Latvian's celebrate the Summer Solstice (shortest night) - a pagan tradition by staying up to greet the rising sun. This most important festival of Latvia is all about celebrating the Sun, where the Latvians head out to the countryside, get a fire going, stay up all night waiting for the Sun to come up.

There is folk singing, with the refrain of "ligo" (pronounced "leegwa"), which means to "sway". Women pick flowers to make into crowns for their heads and it is also more common to see people walking round the streets in medieval national costume during this time.
During the next four years he kept the great memories of his experience at Sivagiri close to his heart. He was so fascinated by the virtues of the great sage Sree Narayana Guru, that he started to read more on him. He wanted to understand more and more on the wisdom of the great Guru.

This prompted him to create a website in the Latvian language on Sree Narayana Guru (http://snglatvija.wordpress.com). Thus came into existence the first ever Latvian Website dedicated to the great great Sree Narayana Guru. The website is filled with rich contents related to Guru including biography, reforms, Guru's messages, followers, picture gallery etc. Several of his friends supported him in this endeavour by providing information, translations etc.