DAIVADASAKAM - TEN VERSES TO GOD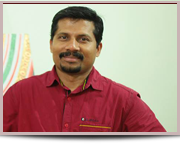 One day, while listening to the explanation of the revered 'DAIVADASAKAM' (Ten Verses to God) of Narayana Guru by the famous orator Shri Gopalakrishnan Narayanan, Artist Sunil Kulanada visualized in his minds the possibility of representing the sacred poem as a picture on the canvas.
At first, he conceived all the figures of the DAIVADASAKAM in his mind. Then he used the technique of converting each line of the verses into colours on the canvas, step by step.

The technique of emulating the line of verses into colours on the canvas was learnt from the paintings of Raja Ravi Varma.

The realistic characteristic of the painting is exhibited to a lower extent due to the reason that the painting required more figures.

The painting received a fair amount of admiration during an exhibition recently at the auditorium of Sangeetha Nadaka Academy - Thrissur.

Artist Sunil believes that the creation needs to be considered as a humble attempt by him to understand the vast ocean called DAIVADSAKAM by the great sage Narayana Guru.

This exceptional and unique method to promulgate the virtues of Guru to the LOKAM is a rare attempt, and Artist Sunil Kulanada rightly deserves acclaim and adulation for his great creation.