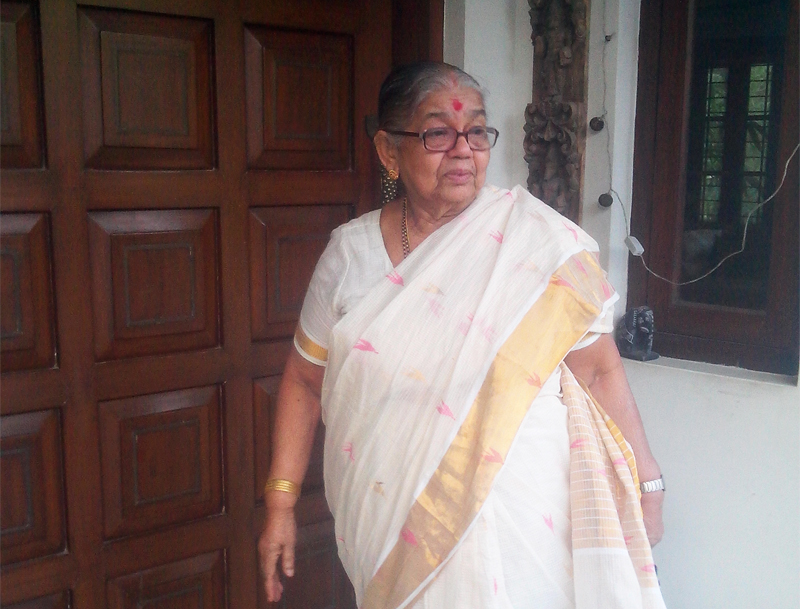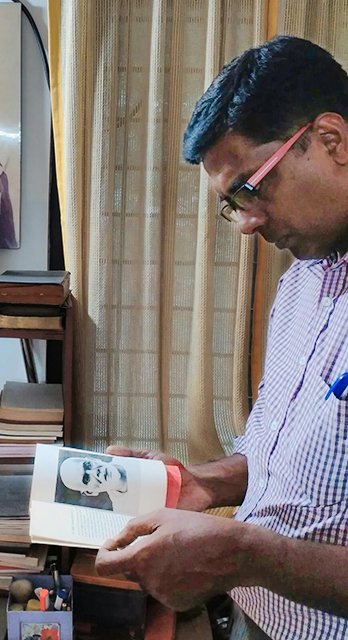 It was during my visit to Hyderabad on January 9, 2016 that I had the privilege to meet Sathyabai Teacher. I met her at the Sree Narayana Vidya Bhavan - a wonderful educational institution in a serene environment where we can really feel Guru's presence.

Shri G.Rajendra Babu, General Secretary, Sree Narayana Educational and Cultural Society (SNECS) was kind enough to showcase to me and my Telugu friend Shri. Sunkara Ramakrishna the various stages of growth of the school, the continuous association of Smt.Sathyabai Sivadas with the school and the efforts by them in moulding responsible citizens out of the students, imbibed with the values of Guru's teachings.

We watched in admiration Sathyabai Teacher actively moving from one team to another team of students, assigning grades for a Rangoli competition on that day in the school.
Once she was free from her busy interactions with the school children, Sathyabai Teacher took me and my friend to her home in Jubilee Hills, where we spent time browsing through her vast collection of books on Narayana Guru. I have treasured the books she has gifted to me on that day, which includes her wonderful works and translations.

We left her home after an hour and went on our journey back to Bangalore with an unforgettable impression and great sense of satisfaction on getting the opportunity to meet the wonderful personage, the great devotee of Guru Narayana.
Smt. Sathyabai Sivadas was born on December 23, 1937 at Kayikkara in Trivandrum District of Kerala.

She joined the Andhra Pradesh Government Educational Service in 1958 and had been teaching English Language and Literature in Government Degree Colleges of AP for 37 years. She taught Indian Heritage & Culture along with Science & Civilization.

Sathyabai Teacher worked in the ELTC (English Language Teaching Centre) of Osmania University and taught P.G. students English Language. She worked in several Committees for Curriculum Reforms, Syllabus Revisions and selection of lessons for text books. .

SATHYABAI TEACHER SAYS:



I started to spread the philosophy and messages of the Guru to the people of AP, because I sincerely felt that they need a Guru of that calibre. The students, parents and majority of the teachers did not care for the difference between a true scholar and 'psuedoscholar'. They did not understand the difference between literacy and education.


My strategy was to get at first the intellectuals interested in the Guru, and make them carriers of Guru's messages to the local people. The people will listen to their own leaders talking to them in their own language. A Malayalee is an alien. A Malayalee talking to them in English will not work at all. But, if a Malayalee talks to them in their language (Telugu), they will listen. They will become overfriendly and accept the Malayalee as their own. That is how it worked in my case.


I was intimately connected with SNECS for nearly 16 years. During these years, we were slowly reaching out to the public with the ideals of the Guru. We could generate ripples here and there. Now the ripples have become waves. People have started talking about Narayana Guru. Political leaders refer to the Guru in their speeches, Religious leaders pay obeisance to him and social activists consider him as a role model.


It may take some more time for people to incorporate his principles into their lives. The changing socio-political condition is a challenge. When a section of people believe that caste is strength, caste is power, how can the principles, 'do not ask, say or think about caste' work?
Sathyabai was born and brought up in a family that has imbibed the culture and traditions of Sree Narayana Guru. She belongs to the family of Thyvilakam, of Kayikkara Village, the native place of Mahakavi Kumaran Asan, which is just 10 kms away from the sacred Sivagiri.

The seashores of Kayikkara and Anchuthengu were favorite locations for young Narayana during his wandering days. He used to sleep on fishermen's boats and Kattamarams during nights. If there was a rain, young Narayana used to ...

Read More
Sathyabai Teacher started to write and speak about the Guru in connection with Ambedkar Centenary Celebrations. She was asked by UGC to present a paper on 'Uplift of the Downtrodden' in a National Seminar. She suggested to the Convener that she would write about Sree Narayana Guru of Kerala. He had a puzzled look on his face and shot a question in Hindi, 'Woh Koun Hey?' which means 'Who is he?' She was shocked and disappointed, but the question opened her eyes to the reality of the situation: 'People outside Kerala know practically nothing about the Guru'.

Read More
While all these were going on, there was a letter from Sivagiri (2010) to start a unit of Guru Dharma Pracharana Sabha (GDPS) at Hyderabad. Sathyabai Teacher felt that it was an opportunity to get more Telugu people involved, if there is a separate unit for them. She discussed the matter with Sivagiri, and got the Andhra unit registered, with local people as members and office bearers. They felt proud and elevated to be a part of a global organization like GDPS.

Read More
Literary and Socio-Cultural Activities...