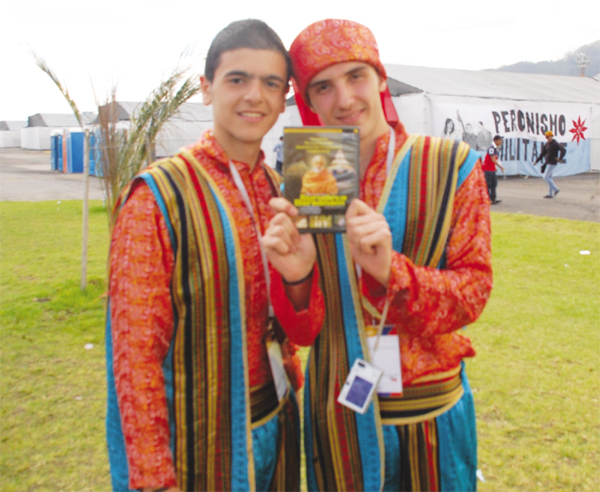 Sri Gireesh Unnikrishnan is a Kodungallur based journalist and a staunch follower of Narayana Guru.
He is the son of Sri K N Unnikrishnan, who was a long-term board member of SNDP Yogam and S N Trust. Sri Gireesh can be contacted at the following address:

Sri Gireesh Unnikrishnan
Daivadasakam Koottayma, Surya Complex,
North Nada, Kodungallur, Thrissur District, Pin: 680 664.
Mobile: +91 93884 90892.
The idea to translate Daiva Dasakam, authored by Sree Narayana Guru, to 100 different languages evolved here. Sri Gireesh Unnikrishnan was a representative to the World Youth Conference organized in association with the World Federation of Democratic Youth (WFDY). Gurudevadarshanam, a documentary which he had procreated based on Guru's life was screened here.

A documentary on the Champion of the Black - Nelson Mandela and another on the world famous speech delivered by Martin Luther King at King Lincoln Square were the other films presented on the occasion. As Gireesh exited the old airport stadium of Quito city after the documentary screening, he met a young Syrian lady who was inspired by Guru's noble statement emphasized in the documentary - Regardless of his religion, man has to uphold his worthiness. She remarked, "We need such saints who can give messages for the well being of the world." The lady was from Damascus - Capital of Syria - a city torn apart by serious civil wars and riots among different religious groups.

Her words touched his heart. We need such assertions for the betterment of the world. This is what Gireesh inferred from the Syrian lady's comment. He was realizing the urge to propagate Guru's teachings in the modern era. On the closing ceremony of Daiva Dasakam centenary in December, 2015 it was decided to translate the Universal Prayer into 100 different languages.

Kodungallur has begun to witness the work for translation and publishing of Guru's Daiva Dasakam, which was written in 1914, into 100 different languages. Commencement of this historical event was marked by a beautifully synchronized group recital of Daiva Dasakam by 1501 students from schools in and around Kodungallur.

Gireesh Unnikrishnan - the mastermind behind this mission has chosen 40 Indian and 60 foreign languages for this magnificent project. It is for the first time that one of the literary works of Sree Narayana Guru is getting rendered in 100 languages. A few of Guru's works, apart from his biography, have already been translated into English and Tamil by some linguists. This project targets a place in Guinness Book of World Records and Limca Book of Records.

The English translation of Daiva Dasakam by Guru Nithya Chaitanya Yati is used for this noble translation project.

The selected languages for this project include Sanskrit - one of the oldest languages in the world, Pali in which Lord Buddha gave his discourses, Avadhi - an ancient language, Aramaya in which Jesus Christ conversed, the Chinese Mandarin - the language used by the largest number of people in the world, Spanish and Hebrew.


The other foreign languages in which translation will be carried out are Italian - the major language of Vatican, Africa's Zulu, Afrikaans, Swahili, West Kenya's Bukusu, Kikuyu, Malagasy language spoken in Madagascar in Africa, Nigeria's Yuroba, Estonia spoken in European Union, Indonesia's Bahasa, Sri Lanka's Sinhala, Malaysia's Malay, Swedish, Welsh, Latin American languages, Greek, English, Dutch, Portuguese, Russian, German, Latin, Pashto, Kurdish language Yazidi, Tanzania's Mijikenda, Armenian, Persian, Arabic and Urdu.

Prominent India languages such as Hindi, Bhojpuri, Bengali, Punjabi, Marathi, Kannada, Tamil, Telugu, Gujarati, Tripuri, Mizo, Khasi, Maithili, Sindhi, Angami, Kashmiri, Ladakhi, Odia, Assamese, Kumki and languages of the neighboring countries which also share Indian culture like Thailand, Nepal, Laos, Vietnamese, Burmese, Cambodia and Bhutan have also been chosen for the mission.

The project receives cooperation from Pennsylvania University in Philadelphia, USA, Universities in Africa, Three Gorges University in China, ambassadors who have served in different countries, Indian cultural centers, faculties from Harvard College, Vintage and anchor books in New York, Malayali research scholars working in different countries, Sivagiri Mutt, Mata Amrithanandamayi Mutt, Pottenkod Shanthigiri Ashram, Chalakudi Gayathri Ashram and foreign language departments of Kerala universities. Sree Narayana International Study Centre has also extended their active support to this project.

In spite of being in existence for the past 100 years, Daiva Dasakam still stands apart, unparalleled as a heartfelt prayer and an exquisite poetry. It begins by addressing the Almighty and ends with the word Bliss. It has absolutely no focus on any particular deity and is equally acceptable to followers of any religion.

Daiva Dasakam delivers the message of Universal Harmony. "Sarvam Khalidvam Brahma" - All Gods are different paths to self-realization. The prayer here is to disclose the truth that all living beings are enlightened by God himself.

Guru praises the divine power which makes the worldly life fulfilled. Daiva Dasakam ends with an appeal to be immersed in the ocean of divine light, to be uplifted to attain the ultimate enlightenment. It expands way beyond the confines of religious ignorance and leads man to the wide and generous summit of spirituality and humanity.

It is an elixir to anyone craving for freedom from the debacles of the modern materialistic world. Careful study is imperative for total assimilation of its essence.

After the publication of Daiva Dasakam in 100 different languages, 300 out of 745 crores of people in the world will be able to appreciate the profoundness and acuity of Guru's literary works.


The rendition in 100 languages will facilitate a LOKAM outreach of the Universal Prayer - DAIVA DASAKAM!