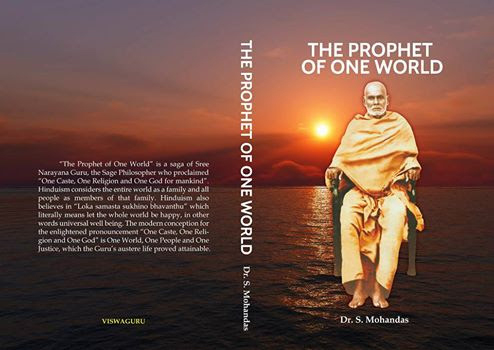 The book named THE PROPHET OF ONE WORLD is a saga of Sree Narayana Guru, the Sage Philosopher who proclaimed 'One Caste, One Religion and One God for mankind'.

Hinduism considers the entire world as a family. Hinduism also believes in 'Loka samasta sukhino bhavanthu' which literally means let the whole world be happy, in other words universal well-being. The modern conception for the enlightened pronouncement 'One Caste, One Religion and One God' is 'One World, One People and One Justice', which the Guru's austere life proved attainable.

The book contains articles on the social milieu of Kerala during the time of Gurudevan; His biography; the sacred places - Chempazhanthi, Maruthwamalai, Aruvippuram, Sivagiri and Advaithashram; Varanapalli and Aruvippuram tharavad; Temples consecrated by him; his enlightened pronouncements; his influence on great personalities, writings; ascetic disciples; householder disciples; Physicians; callers at Sivagiri, Aruvippuram, Advaithashram and Kudroli; SNDP Yogam; SN Trust and Educational Institutions; Dharma Sangham Trust; Narayana Gurukula; SN Institutions in Kerala, outside Kerala and outside India; Antiques; Sree Narayana Calendar; Sree Narayana Diary and Lamentation of Gurudevan.

It is an amalgamation of a biography, reference book, anthology and a commentary. The book in crown size has 488 pages, 837 pictures.
Dr. Mohandas Sankaran passed his MBBS, MD and MS from Governemt Medical College, Thiruvananthapuram. He was in Government service for 30 long years.

After his retirement, Dr.Mohandas works in one of his company hospitals as General Surgeon. He is also an Associate Professor in Sree Gokulam Medical College.
Dr. Mohandas hails from the Aruvippuram family graced by Sree Narayana Guru and Chattambi Swamikal. He is the younger brother of Dr. S Omana, who was the first in Kerala to take Ph.D in Sree Narayana Guru's philosophy in the 1970s. She is a member of the Chempazhanthi Gurukulam Committee formed by the Government. She has written a number of books on Sree Narayana Guru, and all are donated to Narayana Gurukula and Sivagiri.

In 1998, Dr.Mohandas published a collection of 128 articles written by about 110 people in Malayalam. It was not for sale.

Dr. Mohandas plans to use all the returns from this book 'THE PROPHET OF ONE WORLD' for charity, like organ transplantation for the poor and needy.

Let us all support this noble cause by buying the precious book!

For enquiries, mail to: mohandasdrs@gmail.com

Note: Please send your suggestions to: sreenarayanalokam@gmail.com