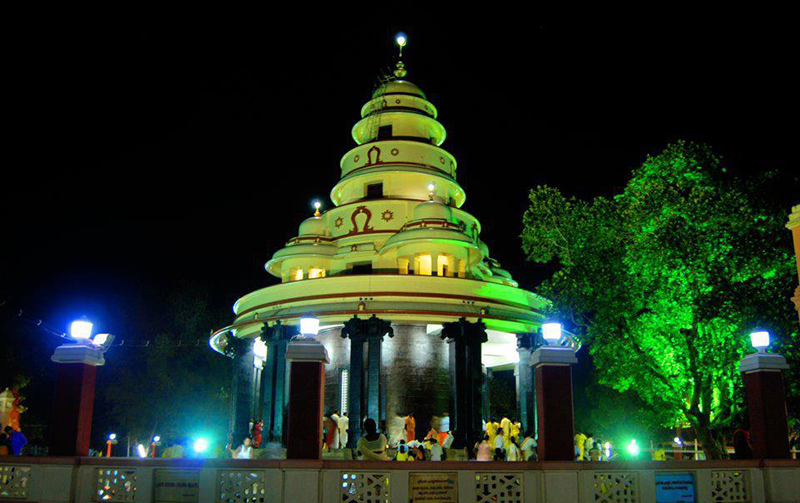 Sathyabai was born and brought up in a family that has imbibed the culture and traditions of Sree Narayana Guru. She belongs to the family of Thyvilakam, of Kayikkara Village, the native place of Mahakavi Kumaran Asan, which is just 10 kms away from the sacred Sivagiri.

The seashores of Kayikkara and Anchuthengu were favorite locations for young Narayana during his wandering days. He used to sleep on fishermen's boats and Kattamarams during nights. If there was a rain, young Narayana used to come and sleep on the open Veranda of their family home which is situated quite close to the seashore. (They have preserved this house in reverence to the great sage).

Sathyabai has heard of this from her paternal grandfather's mother. Her grandfather, Sub-Registrar Velayudhan, was a child of 2-3 years at that time. As he grew older, he became quite close to the Guru. When the First World War broke out in 1914, her grandfather lost his mental balance as he thought of the severe devastation the war would cause. He turned violent. He was bound to a chair and brought to the Guru. The Guru took him into the room, got him unbound and asked the people to go out and close the door. After about two hours, Velayudhan came out smiling, a very normal man. As a child Sathyabai used to ask her grandfather what they talked and he used to tell her that she was too young to understand that, and he would tell her when she grew up. Unfortunately, her grandfather passed away when she was just 12 years old. Sathayabai's grandmother was the grand-niece of Kittan Writer.

During her childhood days, on all Sundays they used to walk up to Sivagiri Hill and spend time near the Samadhi. It was the original circular tomb, with a low wall around it leaving a wide space, and a thatched roof above the entire area. White sand was sprinkled on the space between the tomb and the wall. Devotees would go around outside the wall in circumambulation. The jackfruit tree in front of the Samadhi Mandiram now was already there. They were told that it was planted by Gurudev. As their parents and grandparents sat in meditation under the tree, the children would go in search of fruits and flowers in the wilderness around the area.

Their grandfather used to tell them a lot about the Guru, what he had done for people like us. Sathyabai confesses that she did not understand much of what he said, as she was too young. But the impression was laid on her mind that here lies the great Guru who did everything for us. As she grew older, the greatness of the Guru slowly unfurled in her mind.