Guru Dharma Pracharana Sabha (GDPS) - Noida (U.P.)

The Holy Sanctification of Uthara Sivagiri Sree Narayana Gurudeva Temple at Alpha II, Greater Noida, Uttar Pradesh, India was conducted from 23rd to 27th March 2016, at the behest of Guru Dharma Pracharana Sabha (GDPS).

Sree Narayana Guru Panchaloha Vigraha Pranaprathishta, Shivalinga Prathishta & Sharada Devi Prathishta was done by Brahma Sree Swami Satchidananda, Sivagiri Mutt, Kerala. Thazhikakudam Prathishta was done by Sree Kottayam Narayana Prasad, followed by Bhrahmakalasa Abhikshekam, Parikalasaabhikshekam and Mahaguru Pooja.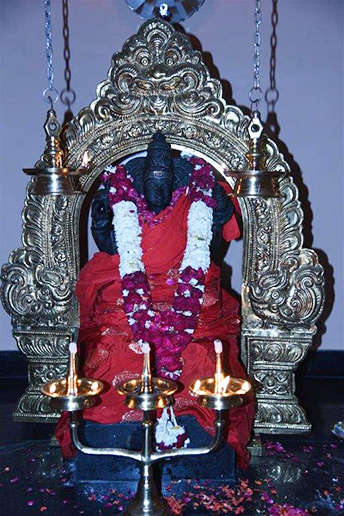 GDPS Noida is the first manifestation of organized movement of immigrant Sree Narayana Gurudeva Devotees in and around Noida, U.P. GDPS was constituted in 1987 under a memorandum and articles of association with by-laws by a small group of Sree Narayana devotees in and around Noida and this Sabha was later registered with Sivagiri Mutt, Varkala (Kerala) as well as under Uttar Pradesh Society Registration Act, in 1999.

The socio-cultural organization, GDPS Noida was established for the purpose of rendering services in the social, religious, cultural and educational fields, besides popularizing the philosophy and teaching of Sree Narayana Guru. The teachings and writings of Sree Naraya Guru are relevant today in eradicating many of the social evils and imbalances and to bring about social equality in the society, irrespective of regions and religions.

The organization has visualized ambitious plans for the present and future. The programmes include among other things, setting up of Religious Place-cum-Sree Narayana Centre, School, Community Hall, Library, etc., in a phased manner, on the land allotted to Sabha by Greater Noida Authority.

The main aims of the organization are:

1. Transfer the cultural and philosophical heritage to the next generations.
2. Introduce Sree Narayana Guru devotees to each other.
3. Spread teachings of Sree Narayana Guru.
4. Help socially and economically weaker section in education.
5. Work with other sister organizations for the betterment of all.
6. Educate members about all religions.
7. Provide financial help to victims of disasters.
8. Work in co-operation with other similar organizations.
9. Establish an institute to teach Sree Narayana philosophy.

All ought to be treated with love, justice and due regard to their merits. None ought to be contended with his or her good alone, but every one ought to regard his prosperity as included in that of others. First and foremost objective of GDPS Noida is to do good to the world by improving the physical, spiritual and social condition of mankind.

As a social organization, GDPS Noida has done it's best to uplift the backward and poor section of the society, helping the poor in need - in cash and kind, encouraging children in studies by giving token recognitions and educational aids to the needful. GDPS Noida has always extended it's helping hand to poor families by providing aids and finance for self employment.

GDPS Noida keeps a common platform for all those who believe in and conduct their life through the path of Sree Narayana Guru's teachings. The organization propagates Guru's teachings to those who are still victim of social and religious devil.

All these years GDPS Noida has been guided by the teachings of Jagat Guru Sree Narayana, and LOKAM believes that the great sage's blessings will always be there for their noble works.